Prominent leaders in the fields of medicine, technology, and education mentored the youth on how to find solutions to the health problems facing our world.
Samarpan '23 was a C20 workshop conducted today by AYUDH Hyderabad and focused on the C20 working group dedicated to Integrated Holistic Health. AYUDH offers young people a platform to develop themselves, alongside providing a meaningful impact for society overall.
To mentor the youth, the event was attended by prominent leaders in the fields of medicine, technology, and education, including Dr. Priya Nair, Chair of the C20 working group on Integrated Holistic Health and a Gastroenterologist and Hepatologist at Amrita Hospital, Kochi; Dr. B Venkataraman, a retired DRDO scientist; and Ashutosh Rai, Founder & CEO – "PreppyPick".
C20 India 2023 is one of the official Engagement Groups of G20 India 2023 and provides a platform for Civil Society Organisations (CSOs) to voice their concerns and aspirations to the world leaders at the G20 Summit set to take place in New Delhi this September. Its working group on Integrated Holistic Health is focusing on issues of mental health, elderly care, nutrition, and a holistic approach to healthcare.
"Samarpan gathered a large group of youth who are enthusiastic and interested to be part of the C20 Integrated Holistic Health working group. This is very heartening to see that there are many people who want to come together and work for the benefit of societal health," said Dr. Nair.
"Our intention was to give an awareness session on existing health, inequalities, advocacies, and an overview of C20 and G20. As the youth in the country, it is very important for us to be able to empower people as to how they can contribute to individual health and the health of society."
The workshop's main focus was on the five sub-components of integrated holistic health: mental health, nutritional health, holistic health, women's health, and child health. The youth were asked to come up with solutions to problems in these areas and present their ideas to a panel of judges. The best proposals were rewarded, and all participants received a certificate of participation.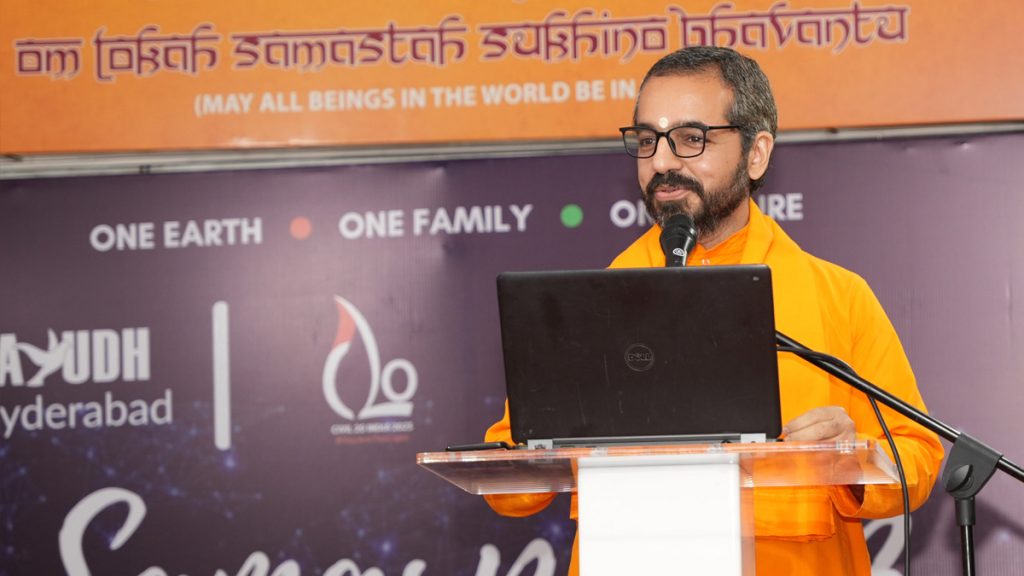 Added Dr. Nair: "We are giving them real world problems in the field of public health, and they are breaking into groups to discuss innovative ways to address the issues. It's about how individuals perform when they take up a specific project in their communities. This program can empower youth to change the world."
"With India being a country today with maximum youth population, there is huge potential here. If the energy of our youth is channeled in the right direction, it can transform not just the country but the whole world," said Br. Mokshamrita Chaitanya, National AYUDH Coordinator.
"Today's workshops focused on the problems and solutions related to Integrated Holistic Health. All our participants today have demonstrated a high level of enthusiasm and participation to engage in further C20 activities, as well."
The discussions included mental health professionals, explored lessons learned from the World Health Organisation's newly established WHO Global Centre for Traditional Medicine (WHO GCTM) in India, and examined how digital health can play a role in promoting global and holistic health. The COVID-19 pandemic has highlighted the need for accessible healthcare, particularly for disadvantaged populations.
"The workshop was an eye-opening event, packed with diverse ideas and great speakers, offering a unique balance between academic research and real-world applications. Moreover, it has provided more insights into C20 and its ideals, such as integrated holistic health and sustainability. And last but not the least, the participants were all charged up and very enthusiastic about being a part of this," said Ashutosh Rai.
The theme of C20 is: "You are the Light". The AYUDH workshop also provided a platform for youth to connect with this vision and understand its importance, and they gained a deeper understanding of the challenges and opportunities in promoting health and well-being. This experience will help them to become ambassadors of C20 and its mission, as they continue to raise awareness and advocate for integrated and holistic health in their communities.
On this occasion, Swamini Suvidyamrita Prana, Principal, Amrita Vidyalayam Hyderabad, gave the benedictory address.