A webinar co-hosted by the Gender Equality & Disability (GED) and the Integrated Holistic Health (IHH) Working Groups.
Women play a pivotal role in the family as well as society; always focused on other members of the family and keeping their health as the last priority. Women's health concerns are numerous. They are influenced by various factors like malnutrition, poverty, illiteracy, early marriage, lack of access to quality health care, domestic violence, sexual abuse, and gender disparities.
In this webinar, eminent speakers with vast clinical and research experience discussed the various social determinants of women's health, menstrual health in adolescent girls, sexual and reproductive health in women, social and cultural factors impacting health for women and girls and the global perspective of human rights on women's health.
Our esteemed speakers included:

– Priti Patkar – Social Worker.
– Dr. Deepa Narayan – world-renowned author and speaker and former Senior Advisor at the World Bank.
– Aishwarya Ray – Menstrual Health Advocate and Educator.
– Dr. Shakuntala Chhabra – Director/Professor of Obstetrics & Gynecology.
– Dr. Subramania Iyer – Freelance Consultant on Maternal Child Health.
– Dr. M K C Nair – Professor Emeritus in Developmental, Behavioural and Adolescent Pediatrics.
– Dr. Padmini Murthy – Physician/Professor and Global Health Director.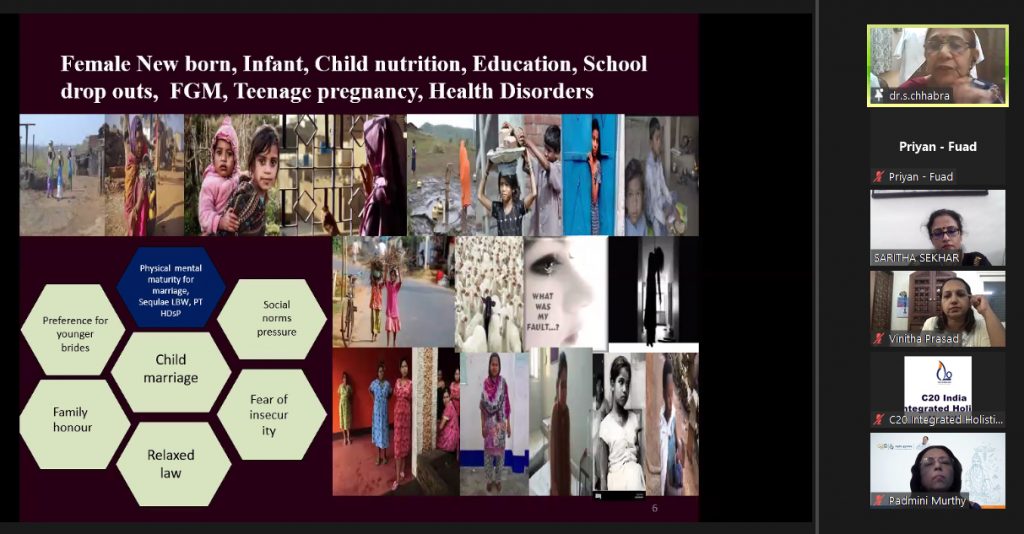 The poor quality of adolescent health was discussed as was the importance of collaboration between pediatricians and gynecologists. The critical need for menstrual health hygiene and education was taken up both from the clinical health aspect and the grassroots level. Menstrual health education needs to emphasize education as well as economics and the environment.
Stigma, fear and discrimination for marginalized communities like women in the sex trade or trafficked women keep women from seeking needed care. This stigma is both social and structural and is intertwined with personal shame. Mental health services are poorly lacking to help address these challenges. Mental health services need to be affordable and decentralized such as utilizing barefoot counselors.
Not only do women lack access to appropriate health care, but within these health care systems, they encounter bias and judgment. When women who are violated show up in hospitals or clinics, they must be treated with utmost compassion and respect versus moralized, scolded and shamed. Compassionate care, compassion for others and self-compassion is the magic pill in medical care.
Overall issues of respect, privacy, confidentiality and consent were highlighted as barriers to accessing health care. Women's rights are human rights. There was strong consensus that men and boys need to be included in eradicating gender inequality. Truly, none of us are equal unless all of us are equal.