The Education for Life, Global Citizenship virtual event, organised by the Civil 20 Education and Digital working group, was held on March 11. The event, attended by 95 participants from the US, Kenya, Indonesia, Tanzania, the UK, Indonesia, and Bhutan, highlighted the transformative power of education
NGO representatives and academics shared insights on the importance of education. The discussion focused on strategies to teach the values of empathy, acceptance and understanding for nurturing the global citizens of tomorrow.
Dr. Prema Nedungadi, EDT Coordinator C20, Director, Amrita CREATE, and School of Computing, Amrita Vishwa Vidyapeetham, Amritapuri, said, "The subtheme Education for Life and Global Citizenship is not only about creating awareness, but also about building youth that have love and compassion."
Inspired by a quote from Amma, she explained, "As Amma says, there are two types of poverty in the world. One is the poverty of love and compassion. The other is the poverty of clothing, food. If we double up love and compassion, then we will naturally start giving others food, shelter, clothing, and save them. Therefore, the expression of love and compassion is the greatest." 
Dr. Shivsubramani Krishnamoorthy (Br. Ramanandamrita Chaitanya), Director of MA Centres and Professor, School of Computing, Amrita Vishwa Vidyapeetham, emphasised the need to instil spiritual values, compassion, and empathy in children and youth. He spoke on service-based activities, practicing mindfulness, yoga and meditation, gaining education on heritage and ancient cultures, and understanding inclusiveness and acceptance — regardless of race, faith, and traditions. He said youth should develop sensitisation to gender and disabilities, accord respect to animals and nature, and use technology with discernment while harnessing its potential to create a better life and future for oneself and others.
Educationist Annie Frazer, Founder and Executive Director of the Montessori Partnerships of Georgia, USA, said education should help children attain their full potential. Designing the right content curriculum is essential.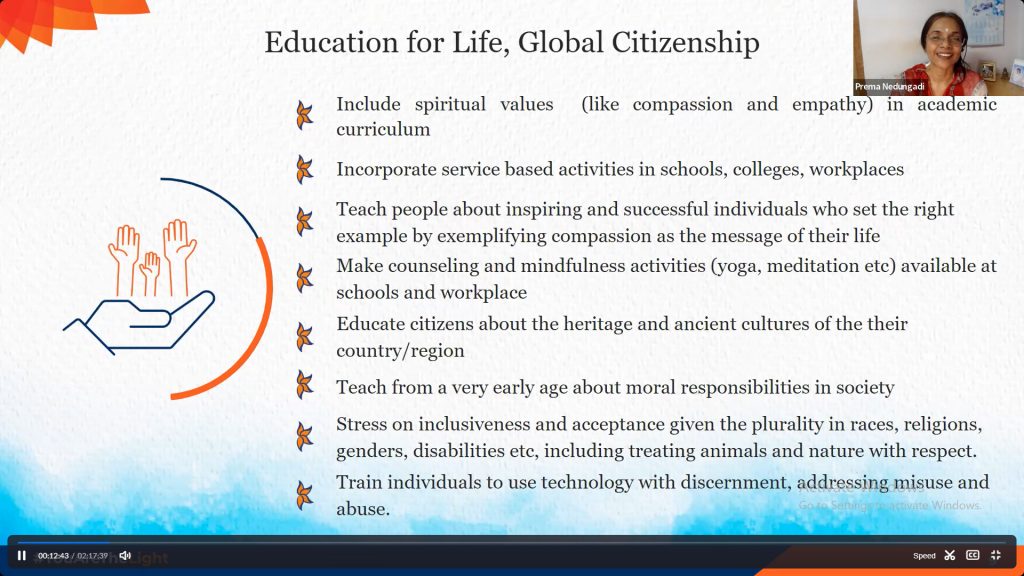 Mary Gordon, a social entrepreneur, educator, and child advocate who founded the international children's charity Roots of Empathy (ROE), Canada, said, "We have a crisis of connection in society, and this concept of education for life will help us find one another." She added that the group's focus was to learn to live and to be a citizen with the ability to contribute. "Emotional literacy is critical, which can be learned through experiential learning to teach empathy and responsibility while inculcating the ethic of care," she added.
Puja Mahajan, the Director of Education and Youth Outreach at PETA (People for Ethical Treatment of Animals), India, said issues like the contribution of dairy, meat, and egg industries to global warming should be included in textbooks. She spoke on the relevance of co-existence with animals and the need to remove speciesism from textbooks.
V. Prabhakar, Registrar of Bharathiya Vidya Bhavan said that children should learn the significance of religious, national, and traditional festivals to develop pride in one's culture. He focused on building educational institutions where academic and human excellence helps learners realise their true potential.
Speaking about the need for prisoners to engage with a world beyond prison walls, Dr. Bidhan Chandra Roy, Founder of the non-profit organization Words Uncaged, USA, said the cyclical nature of trauma remains unaddressed. It gets reinforced through incarceration. "However, it can be addressed through compassionate education," he said, adding that activities like storytelling can help create a narrative that helps foster empathy.
Summarising the key points, Dr. Krishnamoorthy said teachers are integral to the education system. They should understand the needs of diverse learners and create an inclusive environment for them.