The C20 Gender Equality and Disability Working group (GED WG) held a hybrid panel discussion on "Environment and Disaster: Gender Mainstreaming for Reaching SDGs" on February 26, 2023 at the IBRAD (Indian Institute of Biosocial Research and Development) campus. The session hosted 115 participants in person and 43 online.
Among our participants were academics, NGOs, Community-Based Organisations (CBOs), government functionaries, panchayat members, and community members involved in natural resource conservation-based activities.
The accredited panelists included Professor Dhrubajyoti Chattopadhyay – Hon'ble Vice Chancellor of Sister Nivedita; Professor S. B. Roy – Chairman, IBRAD University, who chaired the session; Professor Deepak K Behera – Hon'ble Vice Chancellor of Kalinga Institute of Social Sciences, a deemed to be University, Bhubaneswar; Prof S.B. Roy, Chairman of IBRAD.
Professor Srividya Sheshadari of Amrita University, set the context of the Panel under G20/C20, sharing the vision and plan of the Working Group. Dr. Raktima Mukhopadhyay, Executive Director of IBRAD, focused on Gender as a cross-cutting issue of SDGs and the need for gender mainstreaming to reach the SDGS in the context of climate change. Professor Sucheta Sen Chaudhuri, Jharkhand Central University, shared the challenges of Gender as a social construct. Dr. B.K. Mahapatra, Former Principal Scientist of CIFE ICAR, highlighted the need for Gender Mainstreaming in the fishery sector to reach the SDGs. Mitali Palodhi, Former Demonstration Officer, the Food and Nutrition Board, Government of India, emphasized women's role in conserving indigenous crops and food and nutrition security in the context of climate change. Additional participants from different states also provided their insights and suggestions.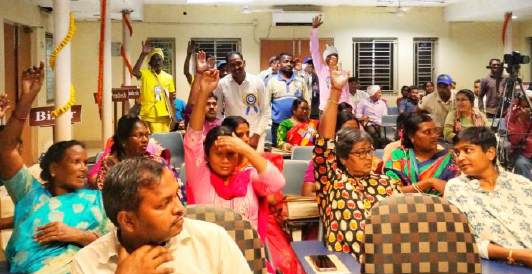 This event highlighted how gender roles are socially constructed to marginalize and exclude women in India and across the world. Participants discussed some of the issues facing women in India today, such as exclusion from positions of power and decision-making processes, nutritional health issues, and the direct impacts of climate change. Panelists also noted the potential economic opportunities for women – and the nation as a whole – if these issues are adequately addressed.
Women and men have different needs and unequal access to power, resources, human rights, and political institutions. Gender mainstreaming aims to consider these differences when designing, implementing, and evaluating policies, programs, and projects so that they benefit both women and men and thus enhance gender equality. The marginalization of women – half of the population – from decision-making processes and positions of power hinders the overall development of any nation.
Participants discussed that in rural areas, women are usually neglected in opportunities for training and professional advancement, and instead left to take care of the physical aspects of work. It's essential that the perceived societal value of women in India goes beyond physical labor, and that they receive the proper training and opportunities to advance into decision-making roles.
Panelists also noted that women suffer greatly from the obstacle of food insecurity in India. 50% of women in India are anemic. Though IFA supplements are widely distributed to address this issue, participants emphasized the need for a broader cultural shift and education around nutritional health.
The panelists also noted that women, particularly in the rural areas of developing countries, are becoming more vulnerable, risk-prone, and marginalized due to the degradation of natural ecosystems and climate change. In their plethora of responsibilities as householders – from farming and agriculture to cooking, cleaning, collecting water, and more – these women are the most directly impacted by the negative effects of climate change. These degradation and climate-related risks and disasters are causing an extra burden on women, increasing their drudgery and stress and reducing their livelihood opportunities.
Panelists also highlighted that Indian agriculture hosts a variety of crops that can thrive in a warming climate. Traditional food like millet is not only rich in nutrient content and has a long shelf life, but also is resistant to pests, and can grow in adverse climatic conditions – particularly in a dry region and poor soil environments. Women, particularly indigenous women, traditionally are engaged in producing these crops – and thus hold information that is essential for India's food security, and could also be invaluable for global climate adaptation. These crops must be utilized and protected in the climate change context to ensure food and nutrition security.
Panelists also highlighted the potential of agricultural technological advances as a source of economic opportunity for women in India. Skills for developing seed banks for indigenous seeds, production of organic manures, fertilizers, and biopesticides, integrated farming systems, and strengthening agroecological processes increases crop resilience and diversifies livelihood options for farmers.
In conclusion, the marginalization, exclusion, and devaluation of women in India are evident. Women are the ones most harmfully affected by the results of social and environmental policies – and yet their voice is neglected in these important decision-making processes.
Not only does the policy need to change, but so does the societal perception of women. There needs to be a broad paradigm shift to valuing men and women equally. This shift will enable a more fluid transition to politically and economically inclusive laws for women – ultimately uplifting and empowering the nation as a whole.
Beyond the scope of the Panel Discussion, the participants volunteered to conduct sessions to identify the issues related to Gender, Environment, and Disaster, prepare action plans to overcome the challenges, and create an enabling environment for gender transformation and social change.