The event, jointly organised by C20 Working Groups Education and Digital Transformation (EDT) & Gender Equality and Disability (GED), involved 140 participants from 22 countries, namely India, Portugal, Brazil, Germany, United States, Canada, Trinidad and Tobago, Bangladesh, Lebanon, Switzerland, Costa Rica, Italy, Nigeria, United Kingdom, Belize, Malaysia, Argentina, Libya, Indonesia, Turkey, Pakistan and Spain.
The goal of the event was to involve diverse voices including civil society organisations and relevant stakeholders for discussing and deliberating on sectoral and thematic challenges, policy gaps and pragmatic pathways for skill development that can benefit the G20 countries. Among the participants were academics, NGOs, and CSOs working with Technology Enabled Vocation Education (TVET), emerging technologies and the future of work, and women and marginalized communities.
The welcome address was given by Dr. Prema Nedungadi, Coordinator of the Working Group on Education and Digital Transformation. The panelists included Shri Rajiv Mathur, CEO Kedman, past Senior Head at National Skill Development Corporation (NSDC), Dr Sandhya Chintala, Executive Director of Sector Skills Council NASSCOM (SSC NASSCOM), Sunil Dahiya, Executive vice-president, Wadhwani foundation, Prof Vinay Swarup Mehrotra, PSSCIVE, NCERT, Dr. Bhavani Rao, the Indian Coordinator for the C20 Working Group on Gender Equality and Disability and Director, AMMACHI labs, and Ummer Koya, Director, Jan Shikshan Sansthan Malappuram. The closing remarks were provided by Dr. Medha Somaiya, advisory board member for the C20 Working Group on Gender Equality and Disability. The moderators were Dr. Nimita Pandery and Asst. Prof. Gayathri Manikutty, members of the C20 Working Group on Gender Equality and Disability and Education and Digital Transformation.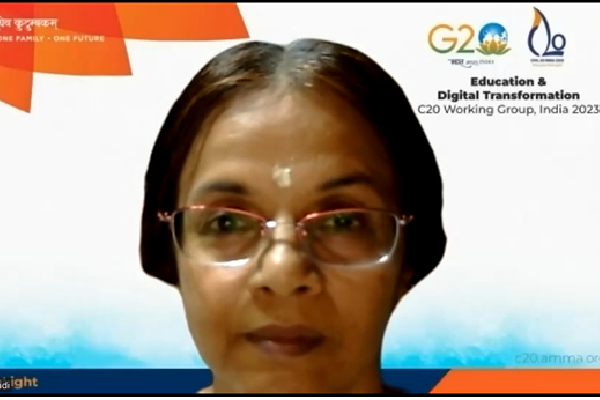 Dr. Prema Nedungadi set the context in her opening remarks by saying that the G20 recognizes the importance of skill development for achieving the SDGs, but various challenges exist in bridging the gap between policy and practice in developed and developing countries. Skill development, which intersects with education and employment ecosystems, is pivotal to achieve SDGs and reduce individuals in "Not in Education, Employment, or Training" (NEET). She added that access to Technical and Vocational Education and Training (TVET) across all levels, including primary education, and upskilling, reskilling, cross-skilling, and recognition of prior learning can create diverse and accessible education pathways. These initiatives can enable individuals from formal and informal sectors to fulfil their potential, particularly for vulnerable populations.
Shri Rajiv Mathur shared that to make skill development a global phenomenon, it is essential to exchange knowledge and skills beyond cultural and geographical boundaries. To facilitate this, Marthur ji recommended various mechanisms and policies to create an enabling environment. The primary suggestion was to promote convergence between G20 countries, both those receiving and sending skilled individuals, by establishing a common norm or system for assessing skills. Additionally, he said that emphasis should be placed on ensuring inclusivity in skilling initiatives.
Dr. Sandhya Chintala said that the increasing pace of technology and digital disruption has changed our way of life and job roles, demanding that training and skilling evolve at the same speed. She said that we require a global job skill talent pool to support the growing digital economy, and democratizing skilling through a shared global skill talent pool, common skill language, and microcredit system is essential. She added that redesigning education for new skills, upskilling, and reskilling is crucial, and each country must embrace the new education and skilling ecosystem to ensure access to new opportunities and the future of work.
Shri Sunil Dahiya said that G20 countries should learn from each other's best practices, such as Mexico's entrepreneurship skilling and India's TVET approach, and China's curriculum design model and apprenticeship program. He emphasized promoting a blended approach in skilling, integrating new and critical technologies in learning and transforming the existing pedagogy for the learners. He added that on the supply side (learner's side), there is a global demand for high-tech skills and jobs, such as EV, drone technicians and pilots, which requires technology-supported content in multiple languages. On the demand side, Industry 4.0's fast-changing work environment requires skilled technicians particularly in areas like AT and IoT. This needs G20 countries to share and learn from each other.
Dr. V S Mehrotra emphasised the need to shift to experiential and competency-based learning and equitable use of technology as emphasized in National Education Policy 2020. He stressed that accessible digital libraries are needed for all sectors as well as a focus on digital pedagogy and literacy. He added that teacher training institutions should also handle digital/blended learning; common recognition of qualifications is necessary for global skill mobility; need for leveraging mobile technology for education platforms; and embracing One Earth One Family by learning and working with other G20 countries.
Dr. Bhavani Rao talked about the need to strengthen skill development in rural areas for which a parallel skill strategy is needed due to differing infrastructure between rural and urban areas, and the age and gender divides. She added that green schools should be created to teach sustainability and technology from an early age; economic empowerment systems should be strengthened using technology, and women-centric ICT hubs should be created; microcredits for transferable skills and financing for inclusivity should be explored; and the link between skilling and MGNREGA should be explored for mutual strengthening.
The last panellist, Ummer Koya ji said that to enhance skills development in rural areas, the existing skill strategy must be revamped to align with future demands and local needs. Digital methods should be employed for skill transformation, and the costs of upskilling should be shared by the government, industry, and beneficiaries. He recommended that 50% of school curriculum be dedicated to skill-based subjects, including emerging technologies like AI. He said that women should have greater access to skill development through SHGs and JLGs and start-ups should be encouraged in both formal and informal sectors.
Medhaji Somaiya ji provided the concluding remarks for the panel discussion. Dr. Sashikant Shanker concluded the webinar with a vote of thanks.