The Cyber Crime Against Women Summit '23 was an event organized by C20 Amrita Vishwa Vidyapeetham on 28th February 2023, in association with the Government of Tamil Nadu and the Tamil Nadu State Commission for Women, an initiative by the National Cyber Security Research Council supported by the Indo-Russian IT association.
The C20 Amrita Vishwa Vidyapeetham and the summit being discussed have a similarity in that they both involve cooperation between civil society organizations (CSOs) and governments to address global issues. The C20 Amrita Vishwa Vidyapeetham brings together CSOs from various countries to offer suggestions to the G20 leaders and contribute to the policy-making process. Similarly, the discussed summit has working groups consisting of CSOs advocating for technology, security, and transparency to promote societal well-being. Both events recognize that collaboration between governments and civil society is essential to address complex issues and promote sustainable development.
The Technology, Security, and Transparency (TST) Working Group aims to promote access to technology, enhance security, and increase transparency for the betterment of society. The group acknowledges the crucial role technology plays in society but understands that over-reliance on it can have adverse effects, particularly on younger generations. The group prioritizes access and affordability of innovative technologies for social impact and emphasizes the importance of CSOs in fostering consistency, accountability, and scalability towards technology development and diffusion. The group also acknowledges the relationship between security and harmony and will explore the concept of security for vulnerable communities, responsible internet and media use, and pathways towards transparency to achieve neutrality. The group's approach is expected to contribute to long-term solutions for creating technology-empowered, secure, and transparent societies for citizens.
The summit addressed the issue of cybercrime against women and discussed the ways to prevent and combat such crimes. The summit will bring together experts from various fields, including law enforcement, cybersecurity, corporate, and women's rights, to discuss the challenges and solutions related to cybercrime against women. The summit covered a wide range of topics, including the types of cybercrime that women are most vulnerable to, the impact of cybercrime on women's lives, and the legal and regulatory frameworks that can be used to combat cybercrime against women. Participants also shared best practices and case studies related to preventing and investigating cybercrime against women.
The event was graced by Mr. T Mano Thangaraj, the Hon'ble Minister for Information Technology and Digital Services, and Ms. A.S Kumari, Chairperson of the Tamil Nadu State Women Commission. Other notable guests included Ms. C. Maheshwari, IPS, Dr. E. Khalieraaj, the Director of NCSRC in New Delhi, Mr. Anirudh Balaji, President IRITA Executive Director, and Ms. Suhasini Manirathnam, an Indian actress, director, producer, and writer in the Tamil film industry.
The event was attended by several dignitaries, including Mr. T Mano Thangaraj, the Minister of Information technology and digital services, who was the chief guest for the event. During his speech at the Cyber Crime Against Women Summit '23, the chief guest T Mano Thangaraj spoke about the importance of gender sensitization and the need to eliminate discrimination in our society. He also emphasized the need to give importance to transgender individuals.
Thangaraj highlighted the sensitive nature of cybercrime, both physically and emotionally, and emphasized that it is often an irreparable crime. He further emphasized that it is crucial to ensure that victims feel safe and secure. Along with Mr. T Mano Thangaraj, Mrs. A.S Kumari, Chairperson of the Tamil Nadu State Women Commission, welcomed and addressed the gathering, and spoke about the importance of awareness of cybercrime against women.
Mrs. Suhasini Manirathnam, Indian actress, director, producer, and writer in the Tamil film industry, at the Cyber Crime Against Women Summit '23 shared the cyber crime incident that happened to her and its resolution with the audience.
Dr. E. Khalieraaj, the Director of NCSRC in New Delhi, spoke at the Cyber Crime Against Women Summit '23 about the issue of social media harassment. He emphasized that victims of such crimes should seek proper counseling from trustworthy sources. Khalieraaj also discussed the effective use of Nirbhaya funds and how research centers for cybercrime could act as a first aid for addressing these problems.
Mr. Anirudh Balaji, the President of IRITA Executive Director, and Director at Horizon group emphasized during his speech at the Cyber Crime Against Women Summit '23 that individuals should not fear or panic when facing a cybercrime situation. Instead, he encouraged them to report it immediately to experts or officers to resolve 90% of the issue right away. Balaji emphasized that no one should hesitate to speak out and report cybercrimes.
Cybercrime is a pervasive issue that affects everyone, including men, and it is essential to recognize the vulnerability of all individuals, regardless of age. The Cyber Crime Against Women Summit '23 highlighted the fact that social media is a significant platform for cybercrime, with 18% of crimes committed on social media in 2019. This figure rose to 21% after the COVID-19 pandemic in 2021. The rise of mobile phones as a necessity in our daily lives has also led to an increase in cybercrime. Data has become a valuable commodity, but unfortunately, users do not always value it, making it a prime target for cybercriminals.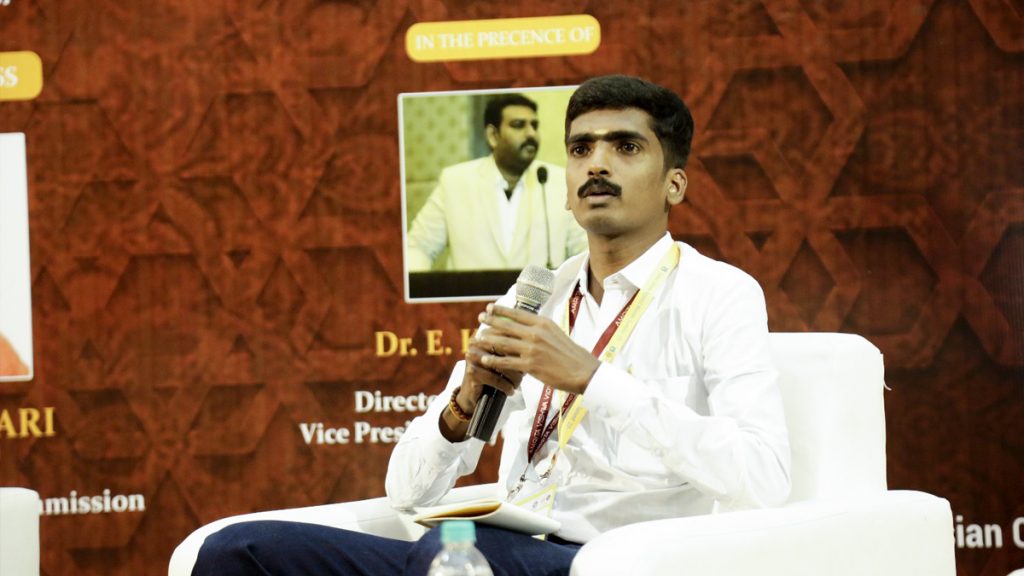 Before the pandemic, the value of data was $4, but it has risen significantly to $400.Phishing emails remain a prevalent method of cyberattack, making up 83% of all attacks. Other methods include morphing and spam calls. These approaches often involve creating a conversation or argument to extract personal information from the victim unknowingly. Mr. Ashok Kumar Mohan, Assistant Professor at Amrita Vishwa Vidyapeetham, Coimbatore addressed about various tools used for Digital Detox and other cyber attack prevention.
The summit also highlighted the psychological factors that contribute to cybercrime and how cyber addiction has created a new world. It is crucial to recognize the sensitivity of this issue, both physically and emotionally, and to ensure that victims feel safe and supported. It is recommended to report any instance of cybercrime to experts or officers immediately to resolve the issue effectively.
The Cyber Crime Against Women Summit '23 highlighted the various causes of cybercrime that are multifaceted, ranging from societal issues to technological advancements. One of the main causes is the increase in internet accessibility and the growth of digital technology. The rise in the use of mobile phones, social media platforms, and other digital devices has increased the opportunities for cybercriminals to target individuals and organizations. Another cause is the lack of awareness and education on cybersecurity measures. Most people are unaware of the potential risks involved in using digital technology, such as sharing personal information or downloading malicious software, making them vulnerable to cyber-attacks. This lack of knowledge makes it easier for cybercriminals to manipulate and exploit individuals.
The summit also pointed out the economic incentive as another significant cause of cybercrime. Cybercriminals often target financial data, such as bank account details and credit card information, to carry out fraudulent activities, leading to financial gain. The value of data has increased significantly over the years, making it a lucrative target for cybercriminals. Additionally, societal factors such as discrimination and gender bias contribute to the vulnerability of individuals to cybercrime. Women and the LGBTQIA+ community are often targets of online harassment and cyberbullying due to their gender or sexual orientation.
Lastly, it highlighted the anonymity provided by the internet also plays a significant role in the rise of cybercrime. The ability to hide behind a digital identity makes it easier for cybercriminals to carry out their activities without fear of being caught.
Prevention of cybercrime against women requires a concerted effort from individuals, organizations, and governments. The Cyber Crime Against Women Summit '23 highlighted that education and awareness are the first steps toward prevention. Women should be educated on how to secure their devices, use strong passwords, avoid clicking on suspicious links and stay alert to potential scams. It is important to install antivirus and security software, as these tools help to identify and block malicious software, phishing emails, and other online threats.
Creating strong passwords is important to protect online accounts from unauthorized access. Passwords should be a mix of letters, numbers, and symbols, and should be changed regularly. Two-factor authentication provides an extra layer of security for online accounts. It requires users to enter a code sent to their phone or email in addition to their password to access their accounts. Privacy settings on social media accounts should be reviewed and adjusted to limit the amount of personal information shared online. Women should be cautious when sharing personal information online and avoid accepting friend requests or messages from unknown individuals.
The summit also highlighted that governments and law enforcement agencies should work to create stricter laws and regulations to prevent cybercrime against women. Awareness campaigns, educational programs, and strict penalties for offenders can help to create a safer online environment for women. The fight against cybercrime is ongoing and requires a collaborative effort from all stakeholders to protect women and their online activities.
The Cyber Crime Against Women Summit '23 pointed out several solutions available to tackle cybercrime and protect oneself from falling victim to it. One of the solutions is the CopConnect app, which was launched by the Tamil Nadu Police Department. The app provides a platform for citizens to report crimes and emergencies in real-time, which can help the police to respond quickly and prevent further damage.
The app also has features like SOS, location-based services, and a directory of police stations and officers. Another solution is the use of ad-blocker software like uBlock Origin, which can block ads and pop-ups that could potentially lead to malware infections or phishing scams. It can also block malicious scripts and tracking codes, making browsing safer and more private. Organizations and companies should also invest in cybersecurity measures to protect their data and networks. This could include implementing strong password policies, regularly updating software and systems, and providing cybersecurity training to employees.
Dr. E. Khalieraaj, the Director of NCSRC in New Delhi, Mr. Anirudh Balaji, the President of IRITA Executive Director and Director at Horizon group, Mrs. C. Maheshwari, IPS, Addl. Commissioner of Police, Central Crime Branch Greater Chennai Police, Ms. Kavitha Srinivasulu, Global Head of Cyber Risk & Data Privacy – R&C -BFSI at TCS, Ms. J. Madhuri, Advocate and Corporate Consultant and Mr. M.J.Logesh Babu, Advocate & Solicitor Cyber Security Evangelist have shown interest in collaborating with the university specifically regarding C20.
This is a positive development as collaboration can lead to valuable insights and expertise for C20 initiatives. It is recommended that our university, Amrita Vishwa Vidyapeetham, explore these opportunities for collaboration and reach out to interested dignitaries to discuss potential areas of cooperation. This could include joint initiatives, knowledge-sharing, and partnerships in research or policy development. It is important to establish clear goals and expectations for the collaboration and to ensure that both parties can benefit from the partnership.
Our university may need to develop a proposal or plan of action to present to the interested dignitaries outlining potential areas of collaboration and the benefits that could be gained from working together. With effective collaboration, the university and the interested dignitaries could make a significant contribution to addressing cyber crime against women and advancing digital security.
In conclusion, the Cyber Crime Against Women Summit '23 was a highly informative and thought-provoking event. It brought together experts, officials, and dignitaries from various fields to discuss the issue of cybercrime, especially those targeted toward women. The summit highlighted the various types of cyber crime prevalent today, the impact they have on victims, and the preventive measures that can be taken. It emphasized the need for collaboration between various stakeholders, including the government, law enforcement agencies, and civil society, to combat this growing problem.
Some of the key takeaways from the summit included the need for stronger laws and regulations to combat cyber crimes, the importance of education and awareness campaigns to educate people on how to protect themselves from cyber crimes, and the need for collaboration between governments, law enforcement agencies, civil society organizations, and the private sector to address cyber crime. The summit also discussed the importance of developing new technologies and tools to prevent cyber crimes, including the use of artificial intelligence and that cyber crimes should be emphasized with guidelines. The speakers emphasized the importance of staying ahead of the curve in the fight against cyber crime, and highlighted the need for continuous research and development in this area.
The panellists discussed the Cyber Security Rally and the Cyber Tales book, which is geared towards children and focuses on how to combat cybercrime. The speakers also discussed the concept of Cyber Civilization and emphasized the importance and value of our personal data and they also discussed the potential impact of the meta-verse on cybercrime.
The Cyber Crime Against Women Summit '23 was a successful program in highlighting the urgent need to tackle cybercrime against women and promoting a collaborative approach toward prevention and mitigation. It is hoped that the discussions and recommendations made during the event will be implemented effectively, leading to a safer and more secure cyberspace for all.
Additionally, the event had special guests, including Mrs. C. Maheshwari, IPS, Addl. Commissioner of Police, Central Crime Branch Greater Chennai Police, who shared their expertise on the topic. Mrs. C. Maheshwari, IPS, is an experienced police officer who has worked extensively in the area of cybersecurity and digital forensics. She shared insights on the latest trends in cybercrime against women and discussed the challenges in investigating such crimes by Greater Chennai Police. presented some real-life examples of cybercrimes, including the EB Bill Scam, Commodity frauds, and loan app frauds. She highlighted how cybercriminals use techniques like morphing photos and threatening victims to commit these crimes. Maheshwari explained that these scams often target vulnerable individuals, such as senior citizens or people with limited digital literacy.